Hi folks, it took us much more time as we thought to write about our experiences at the accelerator program, because every day is packed with information, great talks,discussions and much more. So besides trying to upload some nice insights and content, we´re really working hard on cliperize, to make this a great product. We have far to many ideas that we want to implement in our BETA version. We´re very excited. But before we talk about things that could happen let´s talk about things which really have happened. We´ve had an incredible week with great talks, nice meetings and even better mentor sessions.
After we had our Kick Off event on Sunday it really started with a talk by Thom Cummings (VP of marketing at soundcloud) who gave us great insights in doing startup marketing right. We had the chance to meet Thom on Thursday again for a more closer talk, to put it in three words: It was brilliant. He had a lot of great tipps and asked questions we never thought about. Another mentor we have to mention is Manon Goo, an awesome techie who instantly knew what our situation is and helped us in many ways. Unfortunately we didn´t have the time to talk to Bernd Beimdick. We also have to mention Robert Chatley, who did an interesting talk about lean agile product development.
Besides all the talks and sessions, we had an special evening on Wednesday where we had the chance to meet a lot of different and interesting people, e.g. Deutsche Telekom, especially the hub:raum crew, the cool guys from BLINKIST, Andreas from re:publica and new thinking, Ken of Commandante Berlin just to name a few. Thanks for having us, it was really great.
The second week already started and it´s getting better from day to day. We met Alex Barrera who gave insights in going international with your business. Besides that he´s a nice and interesting person. (Is there anything you couldn´t talk about, Alex?) He had two very important advices. First "give before you take" and second, do the "reversed pitch" when talking to a person.
Yesterday the very entertaining Collette Ballou held a presentation about startup PR. (we love the voice impressions of possible or former clients). Collette really shared her knowledge and gave detailed insights into PR for startups.
Finally today we worked together with Jörg Reinboldt on our strategic goal.We highly recommend to read his and Niko Waesche´s book "Simply Seven".
Like the well known saying that the best comes for last, we´ve just listened to Caroline Drucker about the topic "public speaking making you your speech right". This woman is amazing and for sure a real speaker! The things we keep in mind: Practice your speech as much as possible. Structure your speech and make it simple as possible.
As you can see we´ve learned a lot through this one and a half weeks. Really trying to take as much as we can out of this accelerator program to deliver you a great and fun to use product. We appreciate all the work hub:raum is doing for us.
Last but not least here a first look at our interface. Hope you like it.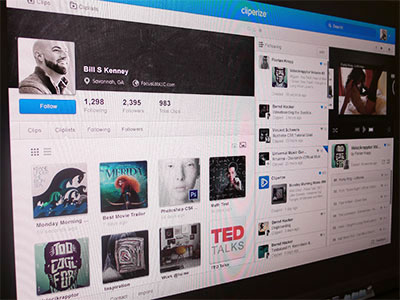 Thanks folks and stay tuned.
P.S: If you wanna help us out a little bit, share this article, like us on facebook or twitter and tell your friends about us.
Much love Florian